Senator Ed Markey Demands Apology From White House After Advisor Kellyanne Conway's Comments On Addiction
WASHINGTON, D.C. (June 29, 2017) – Massachusetts Senator Ed Markey is demanding an apology from the White House after Advisor Kellyanne Conway's comments on ABC This Week regarding addiction. During the interview, Conway, in response to a question about the Senate's new healthcare bill cutting insurance for those suffering from addiction, that they need "a four letter word called will".
The exchange came when Conway was questioned about drastic cuts to the Medicaid program in the Senate health care proposal and the inevitable impact on treatment for those suffering from opioid addiction. Medicaid covers approximately ⅓ of Americans with an opioid use disorder and pays for nearly half of the medication-assisted treatment in Massachusetts.
Communities across the country have only recently received the initial $500 million of the $1 billion that was appropriated through the 21st Century Cures Act, legislation that was passed by Congress and became law last December. The Substance Abuse and Mental Health Services Administration (SAMHSA), a division of the federal Department of Health and Human Services, has referred to addiction as a "disease"."Kellyanne Conway should be ashamed of herself for suggesting that those suffering from substance use disorders should simply have more 'will'," says Senator Markey. "Ms. Conway's statement portrays a fundamental lack of understanding about the nation's largest public health crisis."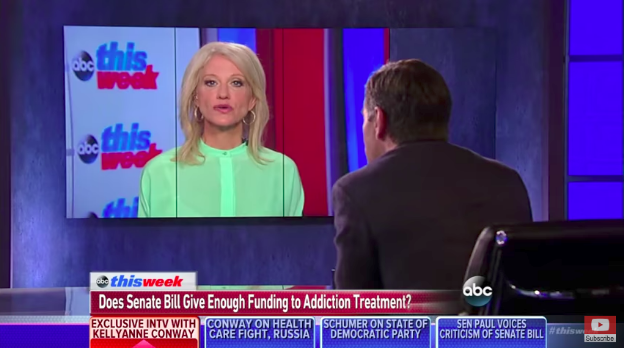 Conway responded Tuesday morning, Tweeting "Upending cherry-picked clips and cut-&-paste for clicks: full 16-minute interview & transcript on @ThisWeekABC"
You can view that transcript she Tweeted by clicking HERE."Addiction is a disease, and we would no sooner ask an Alzheimer's patient, or a cancer patient or a diabetes sufferer to use 'will' as a treatment for those conditions," says Markey. "Nearly 21 million people in our country suffer from a substance use disorder, but only 10% receive treatment for their disease. And for every dollar that we invest in treatment options for substance use disorders, we save $4 in health care costs and $7 in criminal justice costs. Funding treatment and recovery is both the right health policy to combat this epidemic and the right economic policy for our country."The Senate GOP health care proposal has $2 billion earmarked for drug treatment, which is far less than the $45 billion that some, including Republicans, had requested. Nearly 2000 people died from opioid overdoses in Massachusetts in 2016. ABC host George Stephanopoulos began the heated interview by accusing the health care bill of cutting $800 billion in Medicaid funding, which contradicts President Trump's campaign promise to "save Medicare, Medicaid and Social Security without cuts"."Ms. Conway owes an apology to the entire addiction and treatment community for her outrageous and disrespectful remarks," says Markey. "She should also urge President Trump to honor his pledge during his address to Congress earlier this year to 'expand treatment for those who have become so badly addicted.'"Conway noted in the interview that President Trump recently signed into law a bill that provides $213 million in opioid funding with another $811 million to come in next year's budget. The Trump administration hopes to pass the Senate healthcare bill prior to the July 4 recess. Conway was still pressed by Stephanopoulos to explain how underfunding treatment and prevention by $45 billion would produce results.The 142-page draft for the GOP's Better Care Reconciliation Bill calls for a major pullback on the Affordable Care Act's Medicaid expansion, with even deeper cuts in the program than the House version passed last month. The Senate bill phases out the ACA's expansion of Medicaid over 3 years starting in 2021, rather than in 2020 under the House bill.Conway made clear that Americans currently on Medicaid, even through the Obamacare expansion, are grandfathered in. Stephanopoulos, however, refuted this claim, saying that youth across the country will suffer from the $800 billion in cuts. You can watch the full interview by clicking HERE.