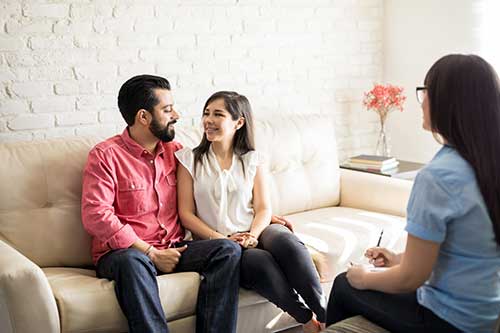 While addiction treatment is usually an individual process, couples rehab can be effective for couples deeply committed to their relationship and their recovery. Addiction therapies like behavioral couples therapy (BCT) will attempt to restructure any dysfunctional interactions within the relationship to reduce bad habits and behaviors that lead to drug or alcohol use. To learn more about our couples therapy program, please contact Vertava Health today at 844.451.0263.
Couples and Addiction Treatment
Some addiction treatment facilities may offer rehab programs for couples or allow couples to enter treatment together. When both partners suffer from addiction and are committed to each other, couples rehab can benefit. Most treatment plans are highly individualized, so many rehab centers may be willing to accommodate if it's in both parties' best interest to undergo treatment together. In some cases, one partner may suffer from addiction while the other does not. Family, friends, and significant others play crucial roles in motivating their loved ones to enter addiction treatment. When a significant other becomes involved in their loved one's treatment plan, treatment can be stronger and more effective in the long term. Whether both partners are addicted or just one, couples rehab might be a good idea.
Going To Rehab Together — How Does It Work?
Couples rehab is designed to treat substance use and addiction for married couples or committed couples living together. The course of treatment will depend on whether both individuals or just one are suffering from addiction. Both individuals will likely begin treatment with a medically-supervised detox program when they suffer from addiction. While the specific treatment steps will depend on both the couple and the rehab center, couples will likely have to undergo detox separately. A detox program ensures safety and comfort during withdrawal, can alleviate symptoms, and prepares a person for further addiction treatment. After detox, couples will either share a room or stay in separate quarters depending on the treatment center.
Most inpatient rehab centers offer short-term stays (30 days or less) or long-term stays (60 days, 90 days, 120 days, or longer). While more research is needed in this area, couples rehab can result in healthier relationships, prolonged abstinence, and a greater likelihood to finish and engage in treatment.
At Vertava Health, we provide couples rehab on an outpatient basis. Admission for couples to our inpatient program is possible, but it is not guaranteed. However, we work with the couple to make the treatment as effective as possible. 
Treatment Methods for Couples
The most common form of addiction treatment is behavioral therapy, which is true for couples addiction treatment. For some addictions, medications can be used to lessen dependence and reduce cravings. Any medications a couple receives will likely be based on individual plans and individual needs. Generally, there are a few therapies that may be used at couples rehab, including:
Alcohol behavioral couples therapy (ABCT) — For people with an alcohol use disorder, ABCT assumes alcohol has directly damaged the relationship, and this conflict has led to further alcohol use. ABCT uses problem-solving, communication, self-control, and a reward system to promote healthy lifestyles and help individuals remain alcohol-free in the relationship.
Behavioral couples therapy (BCT) — BCT aims to reduce substance use by reworking dysfunctional interactions and helping the couple sustain healthy patterns long-term. This therapy can improve a couple's relationship while also making efforts to change destructive patterns and behaviors that lead to substance use. BCT has shown to be more effective, for some couples, than individual or group counseling.
Family therapy — Similar to BCT, family therapy acknowledges that substance use affects every member of a relationship or family. When only one person is suffering from substance use or addiction, family therapy can help each partner, and any children, recover, heal, and make positive changes.
Recovering couples anonymous (RCA) and other support groups — Support groups are available in inpatient rehab programs as part of the therapeutic process, and RCA may be included. RCA is for couples in recovery and is based on the principles of Alcoholics Anonymous and other 12-step programs. These support groups can be crucial for remaining sober and healthy after treatment.
After treatment, maintaining ongoing support within the relationship can be the difference between remaining sober or falling victim to relapse.
Find Treatment at Vertava Health
At Vertava Health, we do couples therapy on an outpatient basis, but acceptance of couples at our inpatient treatment program is on a case-by-case basis and not guaranteed. We do not have rehab programs specifically for couples. However, our couples treatment programs may be helpful if your drug or alcohol use or that of your spouse has led to issues in the relationship.
Contact Vertava Health at 844.451.0263 today for more information on drug and alcohol rehab centers for couples.